HairTG-Cards
Realtime Hair Material Authoring
Artwork courtesy of Character Artist Dennis Batol.
An Integrated Solution
HairTG-Cards is the HairTG's next iteration in Hair Card material authoring. Create your hair material in Substance 3D Painter directly on the 3D model, control all the hair components at once, in realtime.
Hair Design - A powerful set of hair material features to make a variety of hair styles: straight, wavy, curly etc.
For Artists - Novel design techniques enable extensive artistic control while keeping the tool procedural. Design hair textures the way you like with precise shaping controls.
Procedural - Hair/fur textures are generated procedurally, which implies resolution independence, non-destructive modifications and randomization of properties.
Global Properties - A single component enables to access properties of all the hair patches at once inside a given texture set. For example to change the hair thickness, wavyness etc. This lets you test various style in realtime.
Design Presets - HairTG-Cards includes dozens of high quality artist designed hair presets, covering various styles, all editable.
Morph Shapes - Preset designs come with several Morph Shapes: alternate shapes a design may be morphed into. When combined with hair properties randomization, it enables to generate even more varied designs from a given preset.
HairTG-Cards Pro - Includes the regular HairTG-Cards content plus specific components for Substance 3D Designer, enabling to create hair materials on this platform.
Design your hair material on the character model in Painter, explore thousands of variations in realtime.
Hair Presets
HairTG-Cards comes with dozens of artist's designed hair material presets to start from and customize. Presets are not only fully editable, they also may be morphed into alternative shapes and they properties randomized. Each preset your are seeing below is actually one possibility among thousands.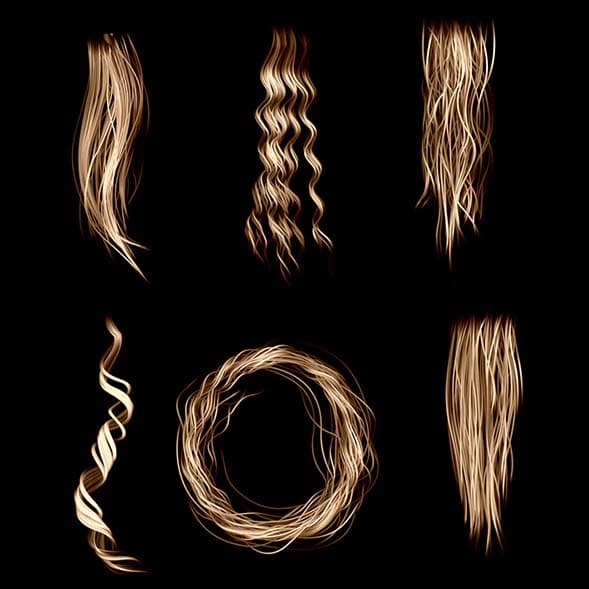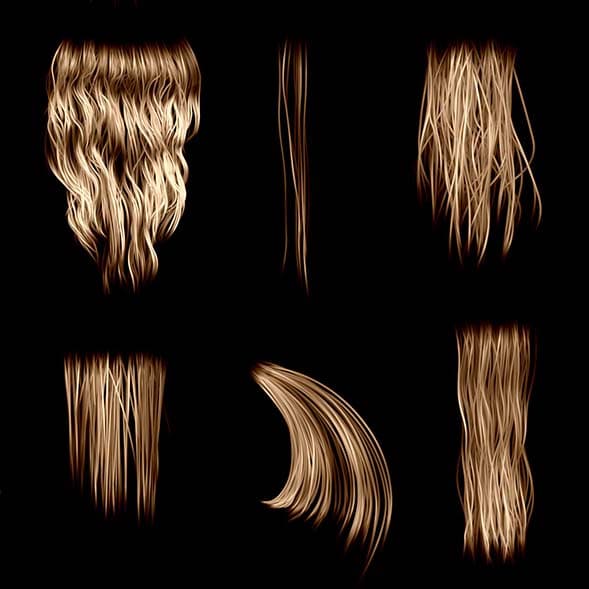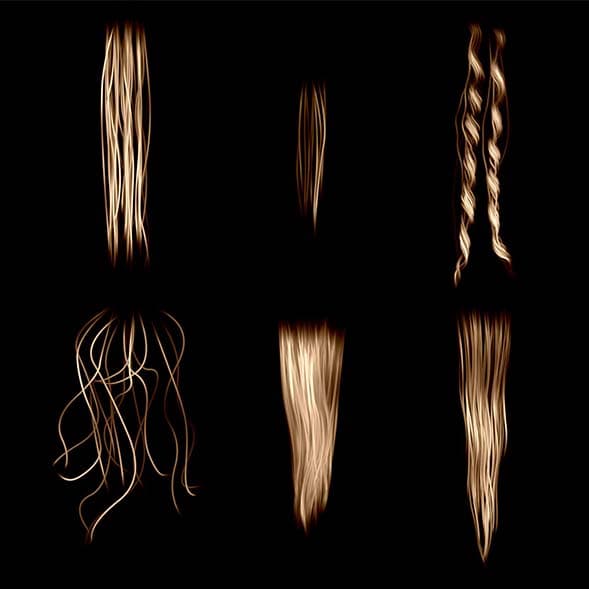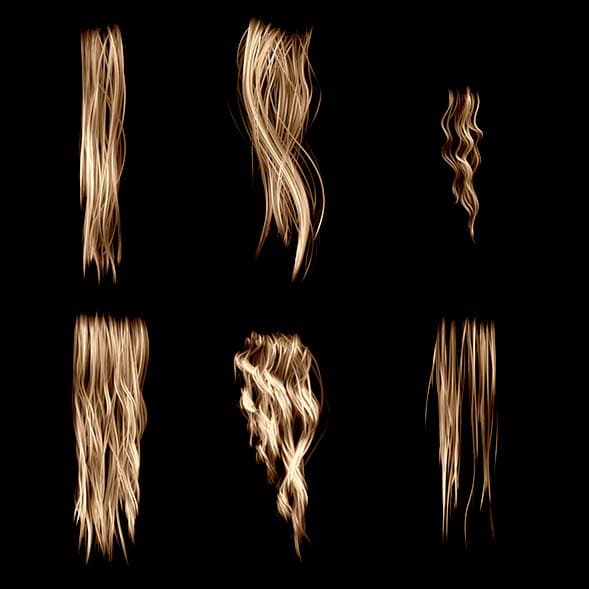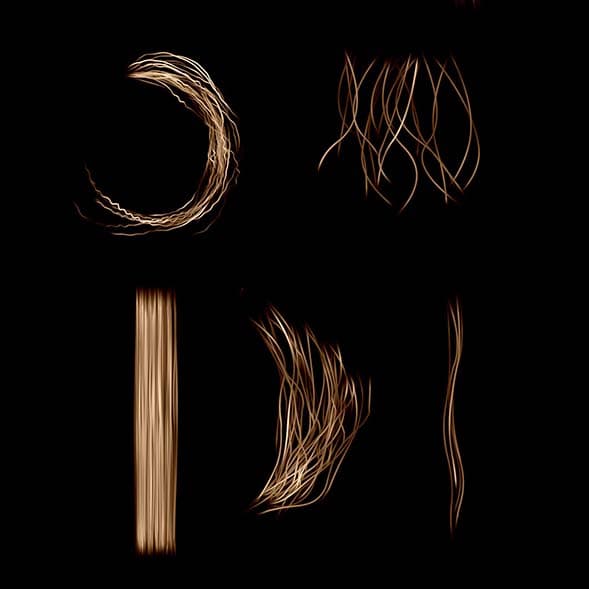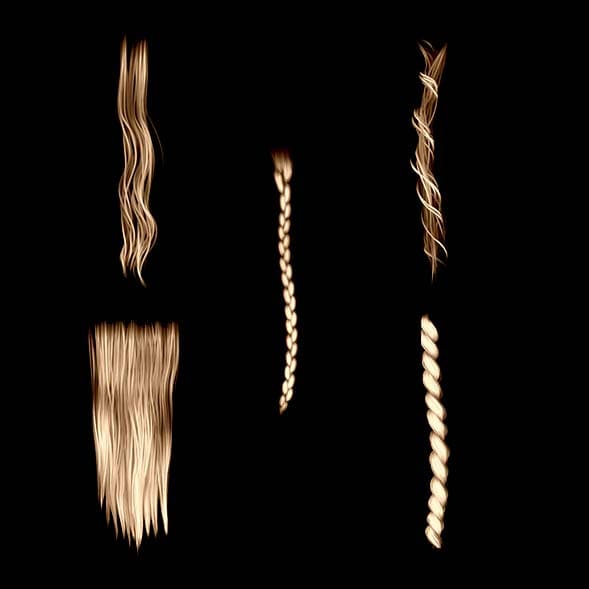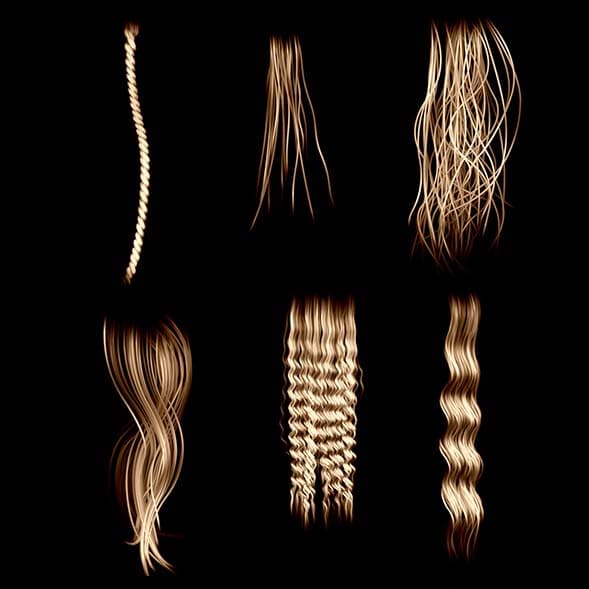 Preset Library
Preset designs are available in the Painter Asset Library, just drag & drop them into the layer stack to work with them.
Morph Shapes
Each preset in HairTG-Cards comes with a set of Morph Shape. They enable to deform the original design in various ways. Edition of the preset parameters can be made at any stage of morphing.
Combining Variations & Morph Shapes
Simply moving a slider, each preset can produce thousands of Variations, randomizing some of the hair properties. This may be combined with Morph Shapes: not only a random Variation is generated, but it also adopts a new shape based on Morph parameters, which can be devided in two categories:
Static Morphing - A random Variation is morphed between two shapes using a slider, we choose which morphing stage is suitable.
Dynamic Morphing - A random Variation also adopts a random morphing stage.
Advanced Hair Material
HairTG-Cards builds on the experience of HairTG-Hair & Fur, providing a simpler and artist driven workflow while maintaining and expanding the extensive feature set.
Procedural PBR hair/fur texture generation for hair cards in Substance 3D Painter with direct visualization on the 3D model.

Modular design and centralized control: design hair textures independently and control their main properties from a centralized Controller enabling to change various properties to all the hair textures at once such as thickness, length, waving etc. all this with direct visualization on the 3D hair model within Painter.
Supported PBR maps: Opacity, ID, Depth (Height/Displacement), Color, Flow (Direction), Anisotropy Angle and Level, Normal, Ambient Occlusion, Roughness, Root and Tip.
60+ artist-designed presets ready to be used and modified through parameters.
Extensive set of parameters to procedurally generate hair textures including hair thickness, length, shape, density, waving, per-hair opacity handling, combing, layering, multiple hair grouping levels, clumping, braid/rope designs and many more.
Automated variation support enabling to obtain thousands of unique designs by just moving a slider.
Various coloring modes including shadowing modes, tint modes in full and at root/tip, color presets, automatic color palettes and Blend Maps.
Morphing support enabling to morph a design into one another, also usable to generate variations.
HairTG-Cards Pro
HairTG-Cards Pro includes additional content enabling to design hair textures, presets and Morph Shapes in Substance 3D Designer.
If you wish to go further with HairTG-Cards, or if coming from HairTG-Hair & Fur and wishing to continue the experience in Designer, this variant may be for you.
Innovative - HairTG-Cards for Designer uses an innovative approach where hair parameters and renderers reside in separate components. This enables to transform hair properties in various ways before rendering them, update hair properties for multiple instances at once and optimize performance.
Morph Shape Design - HairTG-Cards for Designer lets you design your own Morph Shapes for use inside Presets.
Export Painter Designs - Export hair designs made in Painter into Designer in order to generate hair materials usable into other Substance 3D hosts such as Stager or Blender.